SLUDGE DEWATERING DEVICE (SCHLAMMCON)
A different way to drain
A filter box bag retains coarser particles inside the Sludge Dewatering Device. The bottom can be swung open to allow the easy disposal of the filter box bag and its contents.
The perfect way to reuse the backwash water of an automatic filter.
Filter housing
Steel, stainless steel
Reduction of disposal costs
Can be combined with an automatic backwash filter or separator
Robust design
A drip tray allows leaked liquid to be collected for reuse
High productivity
The SCHLAMMCON is often used in combination with automatic backwash filters or separators to treat discharged backwash water.
This can eliminate the consumption of flushing water. The particles are retained in the box bags, while the purified water is collected in a drip tray and then pumped back into the system if necessary. The contents of the SCHLAMMCON can then be disposed of properly.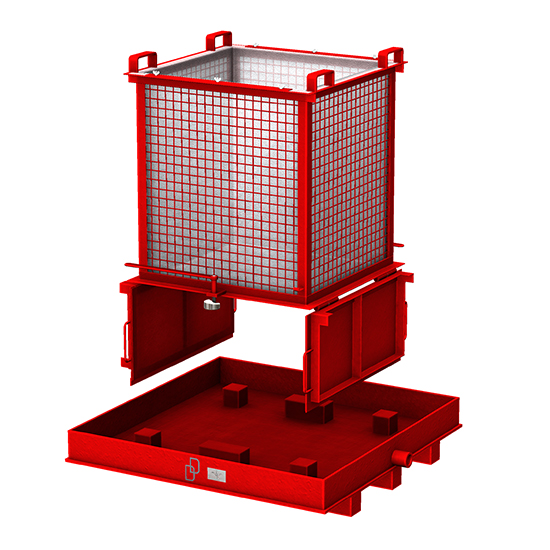 SHAPE BETTER VALUES
CLOSER. BETTER. SIMPLER.
We will make sure that you get the filter that is perfectly tailored to your application. Our engineering office will design the filter to match your operating parameters. Our product is thus tailored specifically to your application.
Experienced partner
All DANGO & DIENENTHAL filters are handled by specially qualified and regularly trained staff. Our mechanical production and assembly departments possess extensive expertise.
Certified testing
Our certified quality management system allows seamless monitoring and control of all production steps. This always ensures early detection and eliminating faults, enabling us to provide the highest-possible quality level for you.
The team at your side
If you require employees for training or maintenance at your company, don't hesitate to contact us. Our specially qualified staff is happy to assist you.
Ideal production conditions
Since 1941, we have executed all production and machining in our factory in Siegen, Germany. Our continuously improved, state-of-the-art range of machinery and our modern factory buildings provide an environment that is essential for manufacturing high quality products.